The Bridal Bouquet is  a trip back in time with this retro look, a pave of carnations, very trendy but also very budget friendly.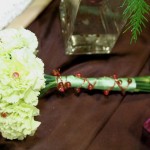 Keep it simple or bump it up a notch with a contemporary wrap of bear grass.
The carnations are available in a variety of colors:  Red, burgandy,  yellow, light, medium or dark pink, white or, orange, peach, green,  lavender or purple.
Bridal bouquet stems are usually wrapped in white or off white, but other colors are avaiable.  Bridesmaids are wrapped in a coordinating color of satin or sheer ribbon.
Bridal Bouquets
Small   $45.00
Medium   $65.00
Large  $90.00
Bridesmaids
Small  $15.00 each
Medium  $25.00 each
Large  $45.00 each
Matching Corsages
Small pin-on or wrist $20 each
Medium pin-on or wrist $25 each
Matching Boutonnierres  $10 Each
Matching Centerpieces
Small and simple $20.00
Medium  and full $35.00
Large and strikingt $80.00
To determine a budget for your wedding, just check out our Wedding Caculator  Or call us at 972-771-1896 for a consultation